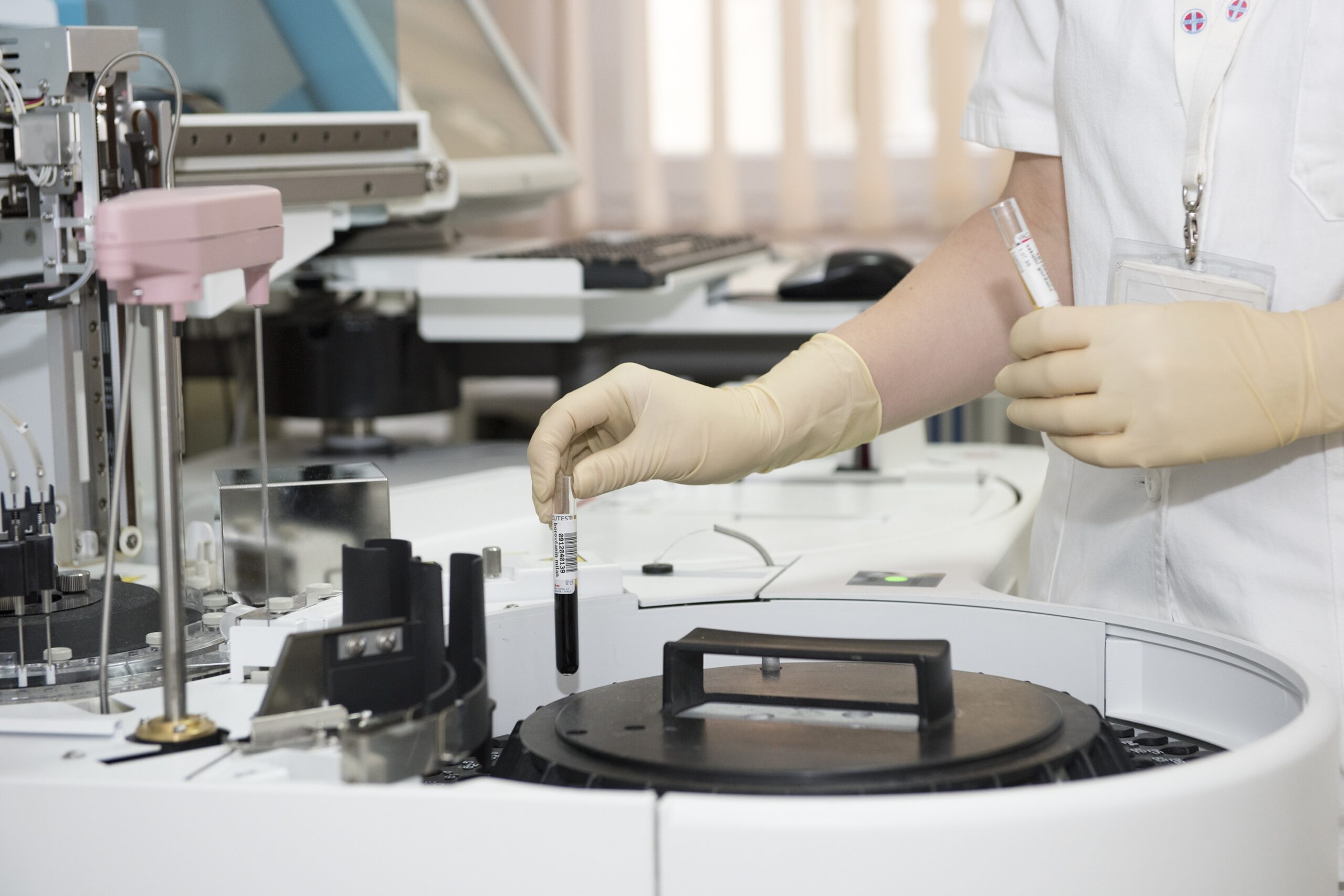 Laboratory tests
Laboratory tests are an integral part of the diagnosis.
Promptly prescribed and performed laboratory tests let Israeli doctors to timely identify the disease risk or prevent it at an early stage.

In the case of an already existing disease, laboratory tests allow Israeli doctors to assess your condition and choose a competent treatment strategy.
In majority of case lab tests reports done in your country will be accepted. But since the Israeli system for measuring laboratory parameters is different sometimes from that used in some countries, especially in former CIS countries, our specialists may ask to perform a blood / urine / feces / sputum test, etc. again in an Israeli laboratory. This must be clarified in advance. Send us the laboratory tests results for a preliminary consultation with an Israeli doctor.
Where are lab tests performed in Israel?
We follow instructions of a leading Israeli doctor and provide you with prompt analyses, transportation to the lab, oral and written translations, timely reports receipt.
Most lab tests are prescribed by our doctors at the Assuta Medical Center and Ramat Aviv Clinics.
Some tests are performed in public hospitals such as Ichilov, Sheba, Beilinson (depending on the doctor's referral).
Genetic tests are carried out in specialized Israeli genetic laboratories, certified according to international standards.
Timing of lab tests in Israel
In most cases, diagnostic procedures, including laboratory tests, are scheduled before your arrival in Israel. You will have a ready-made schedule and cost to help you plan your trip.
The results of the most common tests, such as a general blood CBC and urine test, chemistry panel analysis SMA, will be ready in 1-2 days. If during the examination laboratory tests are used, the results of which can be ready only after 2-3 weeks, and you do not need to stay in Israel (in agreement with the doctor), we will arrange an additional online consultation with the doctor based on the test results, and we will provide you an updated adjusted treatment recommendations report.
Each medical case is different, so all terms will be agreed with you during the diagnosis.
Today, all types of diagnostics are carried out in Israeli medical centers in accordance with international standards.
Laboratory tests in Israel
Analyzes are divided into several clinical groups:
♦ Genetic and metabolic diseases diagnosis
♦ Genetic syndromes diagnosis
♦ Allergy tests
♦ Analysis for anemia and hemolysis
♦ Biochemical panel blood test SMA
♦ Tests for vitamins
♦ Tests for the immune system
♦ Iron blood test
♦ Cerebrospinal fluid test
♦ Tests for diabetes mellitus
♦ Blood coagulation test PTT
♦ Intestinal diseases diagnosis
♦ Tests for minerals
♦ Analyzes to assess blood pressure problems
♦ Hematological diseases diagnosis
♦ Diagnosis of rheumatoid arthritis (RA)
♦ Analysis for toxins and poisoning
♦ Tests of reproductive indicators (infertility)
♦ Diagnosis of autoimmune diseases
♦ Tests for bacteria, infections, bacterial sepsis
♦ Tests for viral diseases
♦ Suspected pancreatic disease
♦ Diagnosis of diseases of the nervous system and brain
♦ Diseases of the skeletal system
♦ Muscle diseases diagnosis
♦ Diagnosis of endocrine diseases
♦ Nutrition assessment
♦ Markers inflammation test
♦ Tumor markers test
♦ Molecular blood tests (liquid biopsy) for personalized treatment
♦ Heart and blood vessels diseases diagnosis
♦ Adrenal function assessments
♦ Thyroid function assessment
♦ Functioning of the pituitary gland test
♦ Liver and bile duct function test
♦ Renal function assessment
Major blood tests done in Israel
| | | |
| --- | --- | --- |
| 1,25, (HO) D | | CRIO |
| 17 OH | | Cryo Globulin |
| 24,25 (OH) D | | CROSS |
| AMOEBA COMPL FIX | | CROSS MATCH+2 TYPE |
| ANTI DNA | | Cultures of the fungus |
| ASCA | | CPK |
| B+T | | CPK-MB |
| BH,CS,IGG AB-BLOOB | | Lactate (lactic acid) – Plasma |
| BH,CS,IGM AB-BLOOD | | L.D.H |
| Borrelia IgM – Lyme di | | LATEX |
| BRUCELLA ABORTUS | | LYMPHOCYTES MARKERS |
| BRUCELLA MELITENSIS | | Lyphocytes markers-panel |
| BSU – TUMOR MARKER | | LIPASE |
| BSU qualitative | | LIPID_PROFIL |
| BSU quantitative | | LIPOPROTEIN (A)-BLOOD |
| CA 15.3 | | LITHIUM |
| CA 19.9 | | Q. FEVER PHASE 1 (CFT) |
| CA 72.4,TUMOR ANTIGEN-BL | | LH |
| CA125 | | MAGNESIUM |
| CARTEN | | MAGNESIUM/D-PANEL |
| CLG | | MAGNESIUM-USMP |
| DSDNA AB-BLOOD | | MALARIA |
| D.DIMER | | COPPER / 24 HOURS |
| FII G20210A (DNA) | | COPPER-blood |
| FISH test | | COPPER-URINE SAMPLE |
| HBC AB | | MELANIN |
| HBEAB | | METANEPHRINE URINE |
| HBE AG | | Metanephrine, collection-urine |
| HBS AB | | METHEMOGLOBIN |
| HCV | | MTHFR |
| HLA B27 | | MRSA- PCR |
| HLA TYPING | | Methotrexate |
| IGA AB – BLOOD | | Myeloperoxidase Ab, MPO |
| IGG AB – BLOOD | | MICOPLASMA |
| ISO ENZ LDH | | MYCOPLASMA IGG |
| JO 1 AB – BLOOD | | MICROALBUMIN |
| LAMICTAL (LAMOTRIGINE) | | MICROALBUMIN/CREATININE |
| LE CELLS | | MICROALBUMIN-URINE/24 HO |
| LUMINAL | | LIVER KIDNEY,MICROSOMAL |
| RH ANTIBODIES COOMBS | | MONOTEST |
| RUST breath test | | UIRC ACID |
| RUST test | | URIC ACID (URINE) |
| SACCHAROMYCES CEREVISIAE | | URIC ACID/D-PANEL |
| SINGLE STRAND DNA,AB-BLO | | UREA |
| URT-P | | UREA (URINE) |
| AUSTRALIAN ANTIGEN+HCV | | BUN/D-PANEL |
| AUSTRALIAN ANTIGEN | | BUN after dialysis |
| ADENOVIRUS AB-B | | SODIUM/D-PANEL |
| ACTH STIMULATION-BLOOD | | NA (SODIUM) |
| PT+PTT | | SODIUM-USMP |
| PTT | | G.6.P.D |
| SGPT (ALT) | | DXPD |
| ALBUMIN | | NSE |
| ALDOLASE | | NORMETNEPHRINE |
| ALDOSTERONE | | Transfusion – trombocytic part – 1 portion |
| ALFA FETO PROTEIN | | Transfusion – blood cells – 1 portion |
| ALPHA-1-ANTITRYPSIN | | Processing cryo |
| Alpha-fetoprotein – pregnancy | | Transfusion – plasma – 1 portion |
| Amikacin in blood | | CBC DIFF HA |
| AMYLASE-USMP | | HBCAB ,TOTAL |
| AMYLASE-BODY FLUIDS | | CBC |
| AMINO ACID | | CB-HA |
| AMINOPHYLLINE | | URINE COMPLETE |
| AMMONIA | | Urine complete and culture count |
| Analysis of Amniotic Fluid | | General culture test |
| Throat culture test | | Oxalate-urine 24h |
| Nose culture test | | Opiates – urine |
| Eye culture test | | OSMOLALITY (BLOOD) |
| Blood test | | OSMOLALITY (URINE) |
| Blood test-cardioscan | | PANEL (WORKER) |
| CULTURE  SPUTUM | | GLIADIN AB PANEL-BLOOD |
| FK test | | PTH |
| Anaerobic blood culture | | PARVOVIRUSE |
| ANDROSTENDIONE | | PARVOVIRUS B19 AB,IGG-B |
| ANTI RO | | Pato-histological analysis |
| ANTI INTRINSIC FACTOR | | Pathology – Freeze |
| Anti-D vaccine | | Blood transfusion |
| ANTI MITOCHONDRIAL | | GLUCOSE TOLERANCE TEST |
| ANTI PARIETOL CELL.ANTI | | BLEEDING TIME |
| Anti Thyroglobulin | | Pneumocystis carinii Ag |
| ANTI FACTOR XA | | IgG subclasses |
| ANTIBIOGRAME | | porphyrins in the blood |
| ANTICARDIO LIPIN IGG | | porphyrins in urine |
| ANTICARDIO LIPIN IGM | | Porphyrins in stool |
| ANTICOAGULANT+DRVVT CIRC | | CULTURE wound |
| ANTIMICROSOMAL ANTIBOD | | Fecal culture test |
| ANTI MICROSOMAL TPO | | Urine culture test |
| Anti Mulerian Hormone (AMH) | | Tuberculosis culture test |
| X-ANCA | | Sperm culture |
| ANTI LA | | PREGNANDIOL |
| ANF | | PREGNANDIOL/24h |
| ANTISTREPTOLISIN | | Sperm freezing pre-treat IVF |
| ANTISTREPTOLYSIN 0;TITER | | PRIMIDONE(MYSOLINE)-BLOO |
| EBNA nuclear Ag | | ADDIS-COUNT |
| ANTI SM AB | | PROGESTERONE |
| HERPES ANTIBODIS | | PROLACTINE |
| HISTONES AB-BLOOD | | PROTHROMBIN |
| MCA | | PROTHROMBIN |
| HERPES SIMPLEX AB,IGG-B | | PSA |
| ANTI RNP | | Pseudo Cholinesterase |
| ANTI CCP | | H1N1 PCR |
| COXSACKIEVIRUS AB-B | | PCR HEPATITIS B |
| ANTI ELICOBACTER AB | | PCR HCV QUALITY |
| ANTITROMBIN 3 | | PCR HCV QUANTITY |
| ANTI CENTROMERE | | PCR CHLAMYDIA |
| ANCA | | P-ANCA |
| APOLIPOPROTEIN A | | TPHA |
| APOLIPOPROTEIN B | | COOMBS DIR |
| ACE – angiotensin converting enzyme | | VIDAL-WEIL FELIX |
| SGOT | | Rearrangement IgM |
| APLA | | APC |
| Acetaminophen | | APC-R |
| Aerobic blood cultures | | RENINBLOOD |
| BARBITURATES-URINE | | RENIN-BLOOD |
| PROTEIN/D-PANEL | | RETICULOCYTES |
| PROTEIN S | | CLOT RETRACTION |
| BENCE JONES | | RICKETTSSIA AB |
| PROTEIN TOTAL | | ROTAVIRUS |
| PROTEIN C | | CEA |
| PROTEIN ,UPRO-USMP | | C ESTERASE INHIBITOR |
| BENZODIAZEPINES-URINE | | Blood collection |
| BETA2 GLYCOPROTEINE IGG | | CLOTTING,FACTOR XII-BLOO |
| BETA2-MICROGLOBULIN-BLOO | | CLOTTING,FACTOR X-BLOOD |
| BILIRUBIN | | CLOTTING,FACTOR VII,PROC |
| BILIRUBIN INDIRECT | | FREE T3 |
| BILIRUBIN DIRECT | | SALIVARY FREE CORTISOL  (ברוק) |
| TESTOSTERONE BIOAVAILABL | | CORTISOL,FREE,COLLECTION |
| Bone marrow biopsy | | PSA-FREE |
| SMAC | | TESTOSTERON FREE |
| SMA | | SEROTONINE |
| Borrelia IgG-Lyme Diseas | | BSR |
| BRUCELLA,AB,SCREEN TEST | | OCCULT BLOOD |
| BRUCELLOSIS | | CO2 |
| Quick Test – pathology | | C-PEPTIDE-BLOOD |
| Quick Test – pathology (slides) | | CSF |
| B CELLS AG | | CRP |
| B12 | | T3 |
| VALPROIC DEPAKIN | | T4 |
| V.M.A. | | FREE T4 |
| VANCOMYCINE | | TEGRETOL |
| VDRL | | T.I.B.C |
| VDRL quantitative | | Karyotype test |
| STD test | | ROSE WALER |
| VARICELLA ZOSTER IGG | | TESTOSTERONE |
| VARICELLA ZOSTER IGM | | HPV TYPING- נשים |
| Taking the amniotic fluid for analysis | | TPO |
| | | TIROGLOBULIN |
| EBV | | HTLV-1 Ab |
| EBV ,LGM | | TOBRAMYCIN |
| Vitamin B6 | | Toxocara IgG Ab |
| VITAMIN A | | TOXOPLASMA IGG-B |
| Vitamin B1 TPPE | | TOXOPLASMA  IgM |
| VITAMIN D | | TOPOISOMERASE1(SCL 70)AB |
| VITAMINE E | | Transglutaminase IgA ,TTG-A |
| VITAMIN C | | Transglutaminase IgG , TTG-G |
| HIV | | TRANSFERIN |
| LUPUS ANTICOAGULANT RVVT | | TRIGLYCERIDES |
| VRE-PCR | | TROPONOZOMA CRUZI |
| GASES IN BLOOD | | TT |
| Galactomannan aspergillus Ag | | TROPONINE |
| GAMMA G.T | | TROPONIN – I |
| GAMMA GLOBULIN | | TSI |
| HAPTOGLOBIN | | TSH |
| GASTRIN-BLOOD | | Ureaplasma. Urealitic./Chlamydia |
| Genetic chip | | URETRA-VAGINA |
| HCV GENOTYPE | | FACTOR 11 |
| GENTAMYCIN | | FACTOR 2-PROTROMBIN |
| Heparine Induced Trombocytopenia | | FACTOR 5 |
| HEPATITIS D | | FACTOR 8-ANTIGEN |
| HEPATITIS A | | FACTOR 9 |
| HEPATITIS A (HAV) IGM | | FACTOR V LEIDEN R506Q |
| Hepatitis A Ab (HAV) IgG | | FACTOR COGULATION |
| HERPES ANTIBODY | | CLOTTING FACTOR XIII |
| HYDANTOIN | | FACTOR COAGULATION |
| HIAA | | VWF,PANEL-BLOOD |
| SMOOTH MUSCLE AB PANEL-B | | FERRITIN |
| HBAIC | | FIBRINOGEN |
| Sex Hormone  Binding Globulin (SHBG) | | FIBRINOGEN.P |
| GLUCOSE | | FTA |
| GLUCOSE POST GLUCOSE | | FOLIC ACID |
| Glucose – CSF | | FSH |
| GLUCOSE/D-PANEL | | PHOSPHOLIPIDES |
| GLUCOSE-USMP | | PHOSPHOR |
| HOMOCYSTEINE | | PHOSPHOR (URINE) |
| GROTH HORMON | | PHOSPHOR/D-PANEL |
| FLU-PCR | | FRUCTOSAMIN |
| Blood type | | LIVER FUNCTION TEST |
| BLOOD GROUP+RH | | Chlamydia trachomatis Ag |
| DEHYDROEPIANDROSTERONE U | | CHLAMYDIA PNEUMONIAE AB |
| DHEA-S | | CHLAMYDIA PNEUMONIA IGA |
| Glutamic Acid Decarboxyl | | CHLAMYDIA PNEUMONIA IGG |
| ISLET | | CHLORIDES |
| DIASTASE | | CHLORIDES (URINE) |
| DIGOXIN (BLOOD LEVEL) | | CHOLESTEROL |
| Entameba  histolytica | | HDL |
| IRON | | LDL |
| ISOENZYMES ALK PHOS | | CHOLINESTERASE |
| ISOENZYMES CPK | | COLD AGLUTININE |
| ISOENZYMES LDH | | Storage amniotic fluid preservation |
| IMMUNOGLOBULIN (EACH) | | CHROMOGRANIN A |
| IGE | | Celiac DPG Screen |
| IMMUNOELECTROPHORESIS | | CERULOPLASMIN |
| INSULIN | | CICLOSPORIN |
| IGFI | | ZINC |
| K (POTASSIUM) | | Cystine-Urine Quan |
| POTASSIUM/D-PANEL | | Cytology – urine |
| CALCIUM | | CYTOMEGALOVIRUS IGG-DLO |
| CALCIUM (URINE) | | Neurophils Cytoplasmic Ab, MPO |
| CALCIUM/D-PANEL | | Citrate – urine 24h |
| Calcitonin | | CMV |
| 25 (OH) D | | CMV IgG avidity |
| CCT | | PHOSPHATASE ALK |
| CARNITINE-B | | LAP |
| CATECHOLAMINES | | EXUDATE |
| CATECHOLAMINES-URIN | | ELECTROLYTES |
| KETOSTEROIDES | | ELECTROLYTES -URIN |
| PHOSPHATASE ACID | | ELECTROPHORESIS |
| CREATININE CLEARANCE-P | | PROTEIN ELECTROPHORESIS |
| UREA CLEARENCE TEST UC | | LIPID ELECTROPHORESIS |
| Quantitative PCR testing breast | | ENDOMISAL IgA |
| Compliment (small) Total | | ENDOMYSIAL-Ab |
| COMPLEMENT (C3-C4) EACH | | ENDOMYSIAL,IGG AB-BLOOD |
| COMPLEMENT,TOTAL HEMOLYT | | ISO ENZ ALP |
| COMPLEMENT;FUNCTIONAL AC | | CRE (Carbapenem-Resistant Enterobacteriaceae) – PCR |
| CORTISOL | | EOSONOPHIL |
| Corticosteroids 17-OH /24h | | MUMPS AB,IGG-B |
| RUBEOLA | | MUMPS AB,IGM-B |
| MEASLES AB,IGG-B | | ERYTHROPOIETIN (EPO) |
| MEASLES AB,IGM-B | | ESTRADIOL |
| RUBELLA,IGM AB-BLOOD | | ESTRIOL |
| CREATININE | | ESTROGEN |
| CREATININE/D-PANEL | | ECHINOCOCCUS AB |
| CREATININE-USMP | | |