Nevena, Belgrade, Serbia, 2021
I really want to thank prof Schachter and his assistant Yulia for the wonderful medical care provided to me. Prof Schachter is very thorough with his evaluation, kind and accommodating. I received so much helpful information and each of my questions and concerns was answered promptly and thoroughly. His knowledge and expertise, genuine care and concern for his patients make me feeling safe and optimistic about my prospects for achieving a desired outcome.
Christos, Cyprus, 38 years old
My friend had back and leg pain for over a year. He could not sleep at night, took medication and underwent physical therapy. But the pain did not go away. The doctors wanted to have the operation, but he refused. My friend does not speak English, he asked me to write to Israel. So we turned to Israel, the ResultMed company, for a second opinion, so that they would recommend us a good specialist who could relieve my friend's pain. A few days later, my friend and I came for a consultation with Dr. Alon Friedlander, who examined and looked at the MRI scans The doctor directed him for an injection into the spine Dr. Sylviu Bril, pain specialist, gave the injection under X-ray control My friend has forgotten about the pain for several days, sleeps well and says he feels like he was reborn. Thanks to ResultMed for the good specialists, for the professionalism and fast treatment coordination. "
---
Rebecca, France
I had an injury to both hands at the age of 2, they were burned by an electric cable, especially my left arm. In France, I spent a year in hospital. As I got older, I was more and more worried about the appearance and dysfunction of my left hand: the shortened space between the thumb and forefinger. Fingers, thumb and nail are deformed, and that this part was very sensitive when touched with something hot. My dad applied to Dr. Igo Goldberg, in Israel, and ResultMed arranged an appointment with him for us. They ordered an X-ray and a surgery, gave us an assistance all the time in Israel, and also provided translation of all reports into English. After the operation, the left thumb was reconstructed, with preservation of sensitivity, and the space between the thumb and forefinger was expanded, skin transplantation and bone implantation. At the end, a splint was applied, which allowed the transplanted skin to form provide the necessary space. Now I can freely use my hand, for example, take a glass, as well as other objects.
Thanks to Dr. Goldberg and the ResultMed staff.
Before the surgery: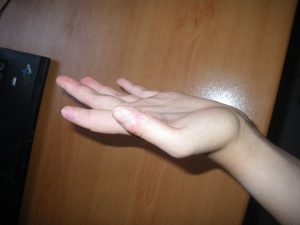 After the surgery:
Alessia, Italy, 2017
"I would like to thank RisultMed for the prompt coordination of the treatment of my mother (78 years old), in Israel under the supervision of Professor Schechter.
Mom got sick a few years ago. In Rome, she was diagnosed with melanoma. Mom underwent several operations, but the disease returned. Irradiation did not give the desired result and caused many side effects. We decided to contact one of the best oncologists in the world – Professor Jakob Shachter. We contacted RisultMed. They very quickly organized a professor's consultation in Israel. Prof. Schechter recommended that my mother undergo treatment with the new biological drug Keytruda. This medicine is not sold in Italy, so my mother has been coming to Israel every 3 weeks for another course for several months. This medicine has no side effects. For six months of taking the drug, according to the results of CT, the tumor has almost halved. Therefore, the professor recommended that my mother continue the course of the drug every 3 weeks. We really hope that the medicine will help my mother get rid of the disease and we thank Yulia and Mili for the timely delivery of the medicine and the prompt organization of the treatment for my mother in Israel. Thank you for not leaving your mother alone and doing everything to make her comfortable in Israel. "
Sanjeev, India, 43 years old.
"I would like to express my gratitude to the Resultmed team for the help they provided me with the treatment of a shoulder injury. I was on vacation in Tel Aviv, fell and injured my shoulder. I need a serious operation due to tendon rupture. Due to the queue, the operation was planned to be scheduled in 3 weeks. But the shoulder hurt very badly and it was impossible to wait, moreover, the doctor said that the operation was needed as soon as possible. I called RisultMed and asked if they can arrange a consultation and treatment for me faster. The next day with their help I was already at the consultation of Dr. Eran Maman, and a day after the MRI, he made me an operation to restore the ligaments in the Assuta hospital. I returned home. At the moment the shoulder was almost completely recovered, the rehabilitation took about 1.5 months. Thanks to RisultMed staff for the quick organization of the operation and personal support. "