Spine surgery
Spinal surgery specializes in the diagnosis and treatment of spine and spinal cord problems.

The main spine problems are as follows:

 Herniated Disc

 Herniated cervical spine

 Herniated lumbar-sacral spine

 Spinal stenosis

 Injury and damage the spine and spinal cord

 Tumors of the spine, spinal cord and peripheral nerves
In modern Israeli neurosurgical diagnosis and treatment neuroradiology is mostly used, including image-guided computed tomography (CT), magnetic resonance imaging (MRI) and positron emission tomography (PET). Some neurosurgical procedures involve the use of functional MRI during surgery.
Using microsurgery these modern technologies allow most accurately perform the installation microvascular anastomosis, clipping of aneurysms with the least damage to the body, the treatment of hemangiomas. Such methods are used in minimally invasive spine surgery. Microsurgery used in such basic procedures as microdiscectomy, laminectomy and discs implantation.
Our neurosurgeons are increasingly using minimally invasive endoscopic surgery. For example, endoscopic endonasal surgery is used to remove tumors of the spinal cord and cerebrospinal fluid leakage correction.
Neurosurgeons are also involved in stereotactic radiosurgery, along with radiation oncologists in the treatment of tumors and treatment of arteriovenous malformations.
In neurosurgery spine also apply methods of endovascular imaging (diagnostic angiography) for the diagnosis and treatment of malformations of the spine and vasospasm. Moreover, such procedures as vertebroplasty, kyphoplasty, angioplasty and others are carried out.
Surgeons
Our doctors
Herniated lumbar-sacral spine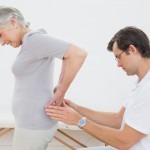 Herniated disc of the lumbar spine is a condition in which the disc of the lumbar exhausted and cracks through its outer shell can seep into the inner core.
The weak spot in the outer core of the intervertebral disc is a spinal nerve root directly, since it has a hernia direct pressure.
As the nerve passes through the legs then any type of crushing him in the lower part of the spine can cause pain, which goes through the buttocks and down the leg. This type of pain is also called sciatica or radiculopathy.
Read More