Doctors
Our doctors are worldwide known medical experts, departments managers of the largest Israeli hospitals and research institutes.
All of them have many years of experience in narrow fields of medicine, successful medical practice in Israeli clinics and abroad, large number of surgeries performed, positive feedback and recommendations of Israeli patients.
Achieving the best Israeli doctors allows our patients from abroad to get a high level solution and management of their health problems.
Scroll down for watching our doctors' profiles.
Oral and maxillofacial surgeons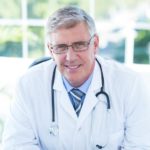 Oral and maxillofacial surgeon is a specialist who performs dental operations related to problems and diseases of the gums, teeth, oral cavity, maxillofacial joints and tissues. In some cases, these problems are cosmetic, while in others they require reconstructive surgery or replacement of teeth with implants.
We work with leading maxillofacial surgeons in Israel who have undergone specialized training and have many years of practice in general surgery, anesthesiology, emergency medicine, otolaryngology (ear, throat, nose) and plastic surgery.
Problems requiring examination of a maxillofacial surgeon, cosmetic or reconstructive surgery, may include facial injuries, correction of skeletal deformities, injuries of the temporomandibular joint (ANS), cancer of the oral cavity, head and neck organs, as well as craniofacial injuries.
Our Doctors

Prof. Dan Fliss
Head of the ENT Department, Oral and Maxillofacial Surgery and Oncology, Sourasky Medical Center (Ichilov).

Dr. Yoav Leiser
Head of the Maxillofacial Surgery Laboratory at the Rambam Hospital. Specialist in maxillofacial and oral cavity surgery. Expert in aesthetic and reconstructive surgery, senior physician of the Assuta Hospital.
Read More