Consultation online
---
Dear patient,
You can get a preliminary consultation or a second opinion of a leading Israeli doctor by phone, Skype, Zoom, email or other. Remote consultation of an Israeli doctor.
---
If you need a reliable advice we will recommend a specialist for your specific case.
Please contact us. Our consultant will provide all the details regarding consultation online as well as list of reports required for doctor's consultation.
As a result of the consultation, we will provide doctor's opinion report in English, including treatment recommendations.
---
⇒ Orthopedist consultation online
⇒ Oncologist consultation online
---
Cardiologist consultation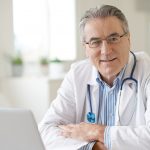 If you need a second opinion from a leading Israeli cardiologist on your diagnosis and heart treatment, we can coordinate a face-to-face consultation or an online consultation – by Skype or Zoom.
Read More