Consultation online
---
Dear patient,
You can get a preliminary consultation or a second opinion of a leading Israeli physician by phone, Skype, Zoom, email or others. Remote consultation of an Israeli doctor.
---
If you need a qualified help and advice, we will recommend a specialist for your specific case.
Please contact us. One of our consultants will provide you with all the necessary details regarding consultation online, information about documents and reports that should be sent us for a doctor's consultation.
As a result of the consultation, we will provide you with a doctor's opinion report including treatment recommendations in English.
---
⇒ Orthopedist counselling online
⇒ Oncologist counselling online
⇒ Benefits and disadvantages of online consultation
---
Consultation of the leading israeli cardiologists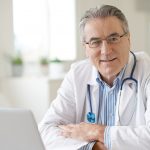 When you have a cardiological problem it is very important to get an independent second opinion of the leading israeli cardiologist about your diagnosis. In order to get an opinion you can come to Israel for the appointment of our cardiologist personally or consult with him online via Skype.
Read More