Continuous glucose monitoring system
Since not all patients can physically feel the impending decrease or increase in blood sugar was developed as a continuous glucose monitoring system FreeStyle Navigator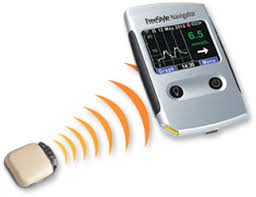 PMD & transm
The navigator should be used in cases as follows:


 To measure glucose every minute during the day to avoid hypo-and hyperglycemia that helps the patient and doctor quickly and accurately adjust the compensation of diabetes


 To arrows TRU indicate in which direction and how fast changes in blood glucose levels


 Set alerts warn of increase or decrease in blood glucose (allowing the patient time to take action)


 Unique technology ensures accuracy and reliable results


 The wireless system allows parents to take the child to his receiver at night or during games


 Miniature sensor – 5 mm only and easy installation


 Test strip due to the integrated port without coding
Transmitter
Miniaturized design with understated neutral color
Transmitter is worn continuously for up to five days or the back of the hand on the abdomen. Transmits glucose values ​​to a receiver in a larger radius of 30 meters providing freedom from wires and tubes.
Monitor continuously measures, displays and records the blood glucose level.
Freestyle Navigator
Human life with diabetes often fraught with anxiety which in most cases can be avoided by means of continuous monitoring that gives confidence and allows to compensate successfully for blood glucose levels.