Professor Shmuel Kivity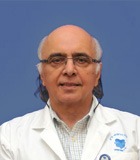 Head of Allergy and Clinical Immunology Department at Medical Center "Sourasky" (Ichilov), Tel Aviv
Education and training:
• School of Medicine, Hadassah Hebrew University, Jerusalem
• Specialization in pediatric allergy and immunology, MT Sinai Hospital, Long Island, as well as the
• National Jewish Hospital, New York, USA.
• Specialization in Allergology and Clinical Immunology, National Jewish Hospital, Denver, USA.
Expertise: internal medicine, allergy and clinical immunology, pulmonology.
Prof. Kivity is a recognized expert in the field of world-class treatment of allergy and immunology in children and adults.
Professional knowledge:
• Treatment of asthma of different ethiology.
• Angioedema.
• Polyps.
• Ocupational exposures.
• Rhinitis and chronic sinusitis.
• Allergies to drugs.
• Respiratory allergies.
• Food allergies.
• Allergy reactions including food anaphylaxis, chronic diseases such as urticaria, eczema and asthma.
• Drugs, vaccines and biological treatments.
• Contact skin infections.
• Diagnosis and treatment of immunodeficiency and other related problems of the immune system.
Academic experience:
• Study of Asthma, Immunology epic polyps.
• Associate Professor of Internal Medicine, Sackler Medical School, Tel Aviv University, Lecturer.
Scientific activity:
♦ About 50 presentations at international conferences, 150 scientific publications.
♦ Member of the Society of Allergy and Immunology, US and Israel.
♦ Member of the World Union of Allergies.
♦ Member of the American Academy of Allergy and Clinical Immunology.