Professor Nir Peled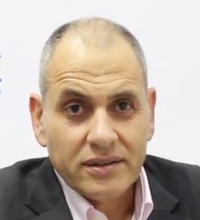 Pulmonologist-oncologist, director of the Сancer Center at Soroka Medical Center, Beer Sheva, Israel.
Professor Nir Peled is one of the best Israeli specialists in the field of pulmonary diseases examination, treatment of lung cancer, targeted therapy and immunotherapy of oncological diseases associated with the chest.
Specialization
Pulmonary diseases
Thoracic oncology
Personalized targeted therapy in lung cancer and chest cancer immunotherapy
Benign and malignant lung tumors (lung cancer)
Education
1994 – MD PhD with honors, Rappaport Faculty of Medicine at the Technion Institute, Haifa
2003 – Internal Medicine residency, Rabin Medical Center
2007 – Pulmonology, Rabin Medical Center, Tel Aviv University
Thoracic Oncology at the University of Colorado Cancer Center
Thoracic oncology in the Fogarty Fellow (Fulbright Scholar)
Academic experience and teaching
Degree in Pulmonology, Faculty of Medicine, University of Tel Aviv.
Pulmonology tuition at Sackler School of Medicine, Tel Aviv University.
Clinical experience – over 20 years
Internship in general medical science, Tel Aviv Medical Center.
1994-1998 – Therapist in the Israel Defense Forces.
1998 – Volunteer in Vietnam, cooperation with various foreign embassies.
2003-2007 – Physician for Internal Medicine, Rabin Medical Center.
2007 – 2014 – Expert pulmonologist, Rabin Medical Center.
Director of Cancer Cancer at the Soroka Medical Center.
Head of the Thoracic Cancer Unit and  Center for Precision Cancer Care of Davidoff Cancer Center at Rabin Medical Center.
Head of the Research and Detection Unit for Thoracic malignancies at Sheba Medical Center, Tel-Hashomer.
Research and scientific activities
Professor Nir is involved in advanced lung clinical and research pathology. He is the author and co-author of more than 100 studies on the early detection and biomarkers of lung cancer, personalized targeted medicine of the chest organs, and immune oncology. Co-author of several medical books. Doctor Peled has prestigious awards, and cooperates with well-known clinicians in the world, including Paul Bunn, Fred Hirsch, Stephen Lam and others.
Participation in professional organizations
Head of the Thoracic Oncology Assembly of the European Respiratory Society (ERS).
Early Detection & Prevention Lung Cancer Committee of the IASLC.
Member of the Editorial Board of the Journal of Thoracic Oncology, Journal of Global Oncology (ASCO).
Framingham program in the field of immune oncology.
American Society of Clinical Oncology (ASCO).