Professor Ofer Merimsky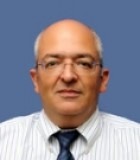 Head of Soft tissues and Bones Oncology Department at the Suraski (Ihilov) Medical Center, Tel Aviv, Israel.
Expert in clinical oncology and radiosurgery,  treatment of soft tissue and bone sarcoma.
Education and Assignments:
1983 – Hadassah High School of Medicine, Hebrew University, Jerusalem.
From 1984 to 1989 – military service as a phisician of the battalion, then as a Head of the medical commission of the Northern District.
1995 – completed residency in oncology and radiation therapy, underwent a course of radiotherapy and brachytherapy at the NYH Medical Center in New York. Training course in cancer treatment, including sarcoma of the skeleton and soft tissues, at the IGR Medical Center in Paris.
In 1995, prof. Merimsky received B.Oncol degree in oncology and then was qualified as a master of oncology (M.Oncol) at the Tel-Aviv University Medical School of Continuing Education.
In 2002 prof. Merimsky became the Head of the skeletal and soft tissue oncology department at the Ichilov Medical Center, Tel Aviv.
In 2004 he was appointed as an associate professor of oncology at Tel Aviv University.
Prof. Merimsky is a member of Israeli and international professional oncological associations:
♦ The Israeli Society for Clinical Oncology and Radiation Therapy (ISCORT), in which he served as secretary for two consecutive terms, and then was chairman for four consecutive years.
♦ American Society of Clinical Oncology ASCO.
♦ The European Society for Medical Oncology ESMO, in which the professor is a member of the sarcoma of the skeleton and soft tissues committee, GIST.
♦ Prof. Merimsky is also a member of the Ethics Committee at the Ichilov Medical Center, Tel Aviv, and is the deputy chairman of the Committee.
♦ Professor Merimsky participates in clinical and fundamental research in deep cooperation with the leading doctors and scientists, has numerous scientific publications in the leading publishers and journals on oncology.
♦ Professor Ofer Merimsky heads the department of skeletal and soft tissue oncology at the Medical Center of Suraski (Ihilov) in Tel Aviv, which treats patients with sarcoma (osteosarcoma, liposarcoma, leiomyosarcoma, angiosarcoma, fibrosarcoma, fibrosarcoma, histiocytoma, rhabdomyosarcoma) that develops in the bone system (bones, muscles, fat, blood vessels, a connective tissue, a cartilage) or in various organs  (stomach, uterus, intestines, blood vessels, heart, lungs), as well as gastric stromal tumors (GIST) and mesothelioma.
♦ Another area of his interests is the cancer of the lungs and the chest. In 2003 Professor Merimsky has received a degree as a professor of sarcoma and lung cancer.
The personalized approach to the cancer treatment
The therapeutic approach used by Professor Ofer Merimsky is based on multidisciplinary knowledge, with the participation of a doctor team from different specialties for the case of each patient. This approach aims to a personal solution for the patient problem and the proper treatment.
Doctors develop a therapeutic strategy at the initial stage of diagnosis.
This approach provides the advantages and the best possible care for our patients.