Dr. Eran Maman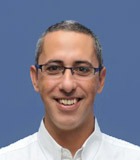 Head of shoulder surgery division, Orthopaedics department, Surasky Medical Center, Tel Aviv.
Orthopedic surgeon, specialist in shoulder treatment and sports injuries.
Education:
♦ Graduate of the Faculty of Medicine, University named after Ben-Gurion.
♦ Graduate of the faculty of advanced training in orthopedics, Tel Aviv University.
♦ Clinical specialization, surgical treatment of diseases of the elbow joint, shoulder joint, sports medicine, University of Toronto, Canada.
Clinical experience:
◊ Specialization in orthopedic surgery, Medical Center named after Souraski, Tel Aviv.
◊ Clinical specialization in the surgical treatment of elbow and shoulder joints, sports injury, Medical Center, University of Toronto.
◊ Dr Maman successfully combines clinical and teaching work, occupying the post of lecturer at Tel Aviv University. Author of numerous publications in leading scientific journals of orthopedics and surgery.
◊ Dr. Eran Maman is one of the developers of a unique method of joints treatment in "Cylinder INSPACE", performed more than 100 surgery operations.