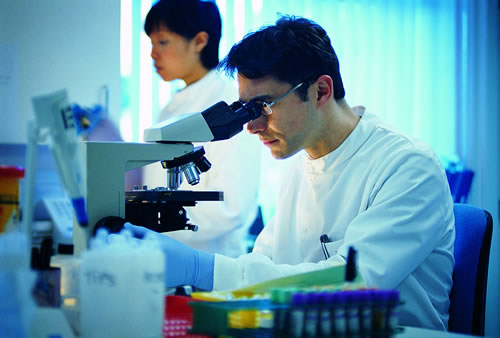 Immunotherapy for lymphoma
Immunotherapy is a promising treatment for Hodgkin's lymphoma (nodular sclerosis or Hodgkin's disease, mixed cell lymphoma) and non-Hodgkin's lymphoma in children and adults. Immunotherapy drugs stimulate the immune system to fight cancer cells and have much less severe side effects.
The treatment for lymphoma depends on the type of lymphoma diagnosed (e.g., Hodgkin's lymphoma or non-Hodgkin's lymphoma), as well as the stage of the disease.
Adjustable treatments or targeted therapies can be useful in treating Hodgkin's lymphoma. There are different types of targeted therapies for Hodgkin's lymphoma being treated with monoclonal antibody treatments. These antibodies stimulate the body's immune system to attack the cancer cells and destroy them.
• Brentuximab vedotin (Adcetris®): This is an innovative treatment designed for Hodgkin's lymphoma patients whose disease has changed after previous treatment. This treatment consists of an anti-receptor antibody found on the cancer cells called CD30. The antibody, which acts like a target-guided missile, is connected to a toxin called vedotin, which transports the drug to the lymphoma cell. When the antibody binds to the receptor, it releases the toxin into the malignant cell and causes it to be destroyed.
Immunological treatment of 1-PD inhibitors for the treatment of Hodgkin's lymphoma:
These drugs are monoclonal antibody immunotherapeutic drugs. The drugs harness the immune system to fight tumor cells. The antibody binds to a protein called PD1 found on T lymphocytes of a patient. Tying gives T cells the ability to identify and destroy the disease cells.
• CAR-T therapy, a new immunotherapy, has been approved by the Health Ministry of Israel for the lymphoma treatment after clinical trials in the United States, Europe and United Kingdom. The abbreviation CAR is an antigenic receptor, which is a T-cell agent called ciloleucel (or axi-cell, Yescarta). CAR T-cell therapy has a transforming effect on patients with recurrent / refractory leukemia and diffuse large B-cell lymphoma, compared with chemotherapy. For many years, anthracycline-based chemotherapy has been the standard treatment, although overall survival is two years in 20% of patients. In the CARUM study of ZUMA-1 therapy, after an average follow-up of 27 months, the average patient response time was 11 months, and almost 40% of them remained in remission. (Emed, Israel)
Immunotherapy drugs are also used by our doctors in Israel to draw up a personalized treatment regimen for each patient.
Personalized treatment can be prescribed based on the results of new molecular genetic tests, during which the genomic profile of the tumor is compiled. These tests give a high prognosis of the likelihood of treatment with drugs that are suitable for a particular patient.
⇒ Leading Israeli hematologists