Opdivo (Nivolumab)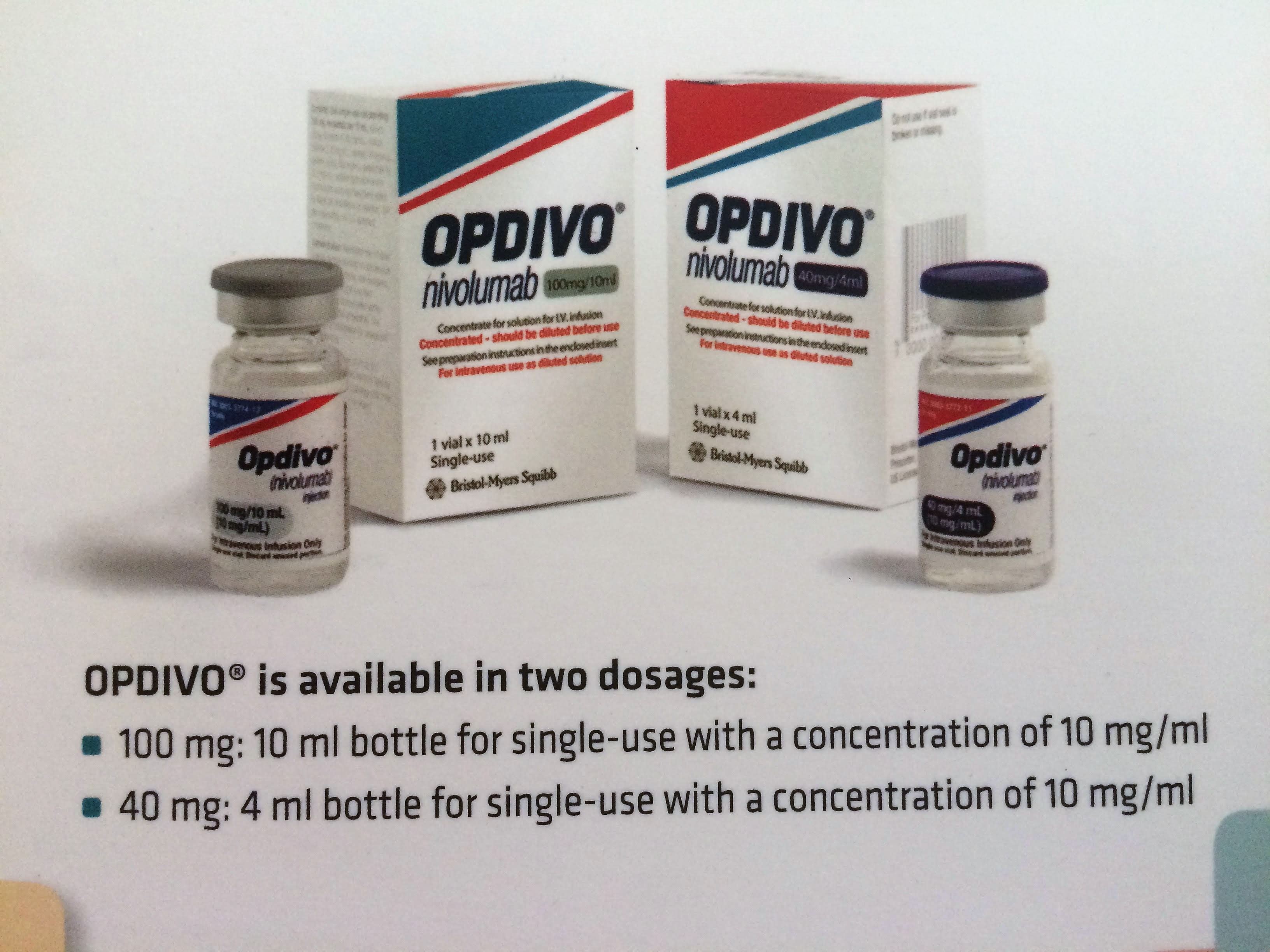 Opdivo (Bristol-Myers Squibb) is a medicine prescribed by Israeli doctors for the treatment of sicknesses such as:
• Melanoma – in cases where the disease has spread to other organs and can not be removed surgically, or for the purpose of adjuvant therapy (prevention).
• Metastatic non-small cell lung carcinoma (NSCL) – in cases where the disease progressed during or after chemotherapy treatment.
OPDIVO shows 50% longer median overall survival vs Chemotherapy* (9.2 vs 6.0 months) in patients with NSCL, according to the study that included PD-L1 Expressors and Non-Expressors. (https://www.opdivohcp.com/metastatic-nsclc/efficacy/clinical-trial-results)

• Hodgkin's lymphoma after autologous stem cell transplantation.
Proven in clinical study:
– tumors shrink or disappeared completely in 69% (179 of 258 patients);
– tumors shrink (partial response) in 55% (142 of 258);
– tumors disappeared completely (complete response) in 14% (37 of 258).
The clinical trials are being continued.

---
Opdivo is a drug that involves the mechanism of immunotherapy by inhibiting the PD-1 receptor. This is not chemotherapy.
The medicine is prescribed for adults.
---
MECHANISM OF OPDIVO ACTION – EXPANDING THE ABILITIES OF IMMUNE SYSTEM
The drug helps immune system. Usually immune system first protects the body against tumor cells threat. However, sometimes tumor sends a signal that can interfere immune system to perform its function.
Opdivo blocks reception of this signal, and thus, force to restore the immune system response to the tumor.
---
WHAT IS THE DIFFERENCE BETWEEN OPDIVO AND CHEMOTHERAPY?
Chemotherapy works directly killing cancer cells. Opdivo, being an immunotherapy promotes immune system to kill cancer cells. Reaction for immunotherapy will be different from chemotherapy – in treatment action and time as well as in the side effects character that may appear.
---
HOW IS TREATMENT PERFORMED?
Opdivo is the receptor of the inhibitor PD-1. Intravenous infusions take about 40 minutes under Israeli doctor's supervision. Before each treatment a blood test should be done.
In some cases, Opdivo is prescribed together with the drug Yervoi (Iplilimumab).
---
HOW OFTEN SHOULD OPDIVO BE ADMINISTRATED?
The recommended frequency of use – once every two weeks. Therapy should be continued if the tumor does not continue to grow or severe side effects appear.
With intolerable side effects our oncologists may decide to suspend or cancel the treatment, or to continue treating the symptoms with other medications. Our doctors prescribe individual duration of treatment for each patient. It may be from 6 months to 1 year.
---
WHEN DOES OPDIVO START TO ACT?
The drug begins to work on the immune system immediately after intravenous administration. But it may vary in different patients. Sometimes it takes several weeks or months to see the effect of therapy.
---
WHAT SIDE EFFECTS MAY BE WITH THE OPDIVO ADMINISTRATION?
Opdivo administration may cause side effects, but not in every patient.
Side effects are different for each patient. It is necessary to consult a doctor if side effects occur, because even the most minor symptoms can cause serious problems if you do not get proper treatment.
Opdivo is immunotherapy that automatically activates the immune system, which can attack normal cells. The most common side effects occur due to increased immune activity, usually different from those that are caused by chemotherapy. In case of timely detection of side effects, in most cases, their intensity can be reduced.
---
Relevant:
⇒ Prof. Jacob Schachter – Head of Melanoma Institute
⇒ Keytruda – cancer immunotherapy