Knee treatment
Knee is one of the most vulnerable joints in the human body as it accounts for a large portion of the load.
The main knee problems of our patients are:

 damage to the medial meniscus

 chondromalacia (exhaustion or injury patella)

 anterior cruciate ligament rupture
Our specialists even in the most difficult cases help to relieve pain and discomfort as well as to restore the function of the knee. In addition to medical treatment in recent years more and more the new method of biological treatment – orthokine therapy is used.
Leading Israeli experts in the treatment of knee joints are:
Dr. Gabriel Eger – specialist in the treatment of knee and shoulder joints, Head of Orthopaedic Surgery Department, Assaf ha Rofé Medical Center
Dr. Gideon Burstein – specialist in the treatment of knee and hip joints (incl. sport trauma), Senior doctor in the Orthopedics Department, Sheba Medical Center, Tel Hashomer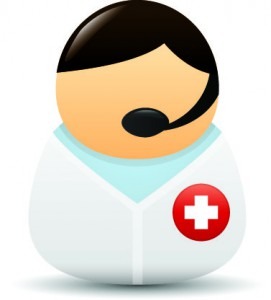 To ask a doctor or to make an appointment, please contact us by telephone, e-mail or application form on the right 
We will contact you as soon as possible
In case of severe joint damage or partial failure of its functions doctor may recommend a surgery
Arthroscopy and meniscectomy (Knee meniscectomy). This minimally invasive procedure is performed with arthroscope (tool diameter of a pencil) and used to remove all or part of the damaged meniscus in the knee joint. The meniscus is a piece of elastic bone tissue between the bones of the knee joint. Sometimes this fabric is worn or injured and can not perform meniscus full function that causes severe pain and discomfort in the knee. This procedure is used in cases where mobility is severely limited knee, the knee was swollen and the patient has to take painkillers regularly. Arthroscopic meniscectomy is performed under general or local anesthesia.
Arthroscopy and chondroplasty (Knee chondroplasty). This is one of the newest outpatient methods used by our specialists for the treatment of damaged knee cartilage. This damage causes mobility problems, pain and swelling and often with such symptoms require surgery. During the procedure surgeon reshapes the surface chondroplasty knee cartilage and cleanses, removing all its damaged areas using the endoscope (small) scalpel or laser.
Arthroscopy (Meniscus replacement) 
Microfracture chondroplasty used in significant damage to the surface of the knee joint. Damaged area is removed surgically or with a laser. Thereafter, cartilage tissue is restored.
Autologous chondrocyte implantation is a procedure that is performed in two stages. At the first stage surgeon using an arthroscopic procedure removes a small amount of cartilage cells. These cells are sent to the laboratory where they are grown for four to six weeks. Once these cells are sufficiently reproduced they are implanted in the area of damaged cartilage. This step is performed by open surgery. Full recovery after this surgery usually takes six to eight weeks.
NUsurface meniscus implantation (NUsurface Meniscus Implant). This is one of the most reliable methods to get rid of pain in the knee joint when the patient has already exhausted all other options, but is not ready for a complete operation to replace the knee joint. The NUsurface artificial meniscus implant is suitable for young people aged 30 to 65. It is carried out through a small incision in the knee, and does not require fixation. The patient can walk on the same day.
Arthroscopy and reconstruction of the anterior cruciate ligament (Anterior cruciate ligament reconstruction). This procedure is performed in order to restore stability and normal functional level of the knee, as well as limitations loss of functionality and to prevent injury and degeneration of other knee structures. It happens by replacing the damaged or torn ligament implant. The most commonly used with autograft, ie the patient 's own tissues such as tendons kneecap (patella) or one of the hamstrings. Another option is an allograft (donor tissue). This operation can be performed with arthroscope through small incisions in the knee and inserting thin instruments through these incisions or by open surgery with a cut 4 cm. Lately our specialists are increasingly applying arthroscopic procedure because it is less traumatic for the patient, and has less risk than with open surgery, at the same time making it easy with this camera to explore the structure of the knee joint. Physical rehabilitation after anterior cruciate ligament reconstruction can take from several months to a year. The length of recovery time for each person is different and can vary from 4 to 6 months.
In the case of joint function is impossible to restore by all methods mentioned above doctors may be recommended total knee replacement.
Installing the prosthesis may be indicated in such cases as:

 Osteoarthritis of the knee (gonarthrosis) – wear or damage to the articular cartilage

 Osteoarthritis due to peculiarities of the anatomical structure of the joint

 Posttraumatic arthrosis

 Defeat knee due to rheumatoid arthritis
Artificial meniscus the NUsurface implant for knee treatment in Israel
Artificial meniscus NUsurface implant was developed in Israel, tested during 10 years in international clinical trials – SUN and VENUS, and this is primarily intended for young people from 30 to 65 years old. NUsurface implant performs a shock-absorbing function instead of a damaged or torn meniscus. Since November 2019, the NUsurface implant is available for patients in Israel.
The meniscus is a cartilaginous stabilizing pad impregnated with synovial fluid. There are two menisci in the knee – external and internal, and their role is to reduce friction and protect the surface of the articular cavities from damage, excessive loads and restricted excessive mobility.
Meniscus damage can еven occur with a slight leg injury. Treatment can be conventional or surgical for a torn or damaged meniscus. It may be as follows:
physiotherapy
pain treatment
drug treatment as ointments or injections
arthroscopy
partial or complete meniscectomy (damaged meniscus removal)
meniscus implantation
According to recent studies, many patients still continue feeling pain in the knee after meniscectomy, which significantly affects their quality of life. In this case joint replacement surgery or arthroplasty is only a matter of time.
Indications for  the NUsurface implant
At complete replacement of the joint with an artificial analog or an endoprosthesis made from metal and plastic rehabilitation takes quite a long time.
At the same time, NUsurface Implant is ideally suited as an artificial medial meniscus for young patients aged 30 to 65 who experience knee pain and used all available options, but are not ready for radical surgery of the knee joint replacement or endoprosthetics.
The implantation procedure of an artificial meniscus NUsurface Implant
During arthroscopy, a special medical polycarbonate urethane is inserted into the knee joint through a small incision. It serves as its own meniscus instead of damaged or torn one. The NUsurface implant does not require fixation on soft or bone tissue, and it acts as a shock absorber under weights affecting  the knee joint.
The implant does not require a long time of recovery after minimally invasive surgery, and you can start walking on the same day.
The most effective treatment for knee pain from Active Implant LLC
NUsurface Implant artificial meniscus is currently the most effective treatment for pain. This has been proven by 10 years of long-term research in Israel, Europe and America.
The FDA has included this medical product in the Breakthrough Devices program, which accelerates the verification and approval of devices based on advanced technologies for patients who has life-threatening or irreversible conditions or diseases.
The NUsurface implant or artificial meniscus was invented at the R&D Research Center in Netanya, located in Israel. This is a division of the Active Implant company which develops a variety of orthopedic implants. These implants complement the natural biomechanics of the musculoskeletal system and help patients to maintain or return to an active lifestyle.
Read More